Other Images
Vigilant Cruiser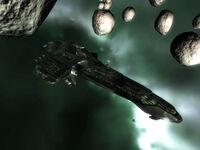 Vigilant Cruiser
The Vigilant was the first Gallente design the Guardian Angels would steal and make their own, but it wouldn't be the last. Building on the Thorax's natural strengths, it is a deadly vessel both by itself and in fleet tandem. A group of these sluggers is a sight to fear.
Special Abilities
Edit
Special Ability: 75% bonus to Medium Hybrid Turret damage

Gallente Cruiser Skill Bonus: 10% bonus to Medium Hybrid Turret falloff per level

Minmatar Cruiser Skill Bonus: 10% bonus to the velocity factor of stasis webifiers per level

Shields
Shield Capacity
2,175 HP
EM Resist
0 %
Explosive Resist
50 %
Kinetic Resist
40 %
Thermal Resist
20 %
Recharge Rate
1250000 ms
Armor
Armor Capacity
2,325 HP
EM Resist
50 %
Explosive Resist
10 %
Kinetic Resist
35 %
Thermal Resist
35 %
Structure
Hull Capacity
2,625 HP
EM Resist
0 %
Explosive Resist
0 %
Kinetic Resist
0 %
Thermal Resist
0 %
Cargo Capacity
250 m3
Mass
9,830,000.00 kg
Volume
101,000.00 m3
Capacitor
Capacitor Capacity
1,545 Energy
Capacitor Recharge
491250 ms
Drones
Drone Bay Capacity
50 m3
Drone Bandwidth
50 Mbit/sec
Navigation
Max Velocity
196 m/sec
Targeting
Magnetometric Sensor Strength
20 points
Max Locked Targets
7
Max Targeting Range
35 km
Scan Resolution
275 mm
Signature Radius
130 m
Ad blocker interference detected!
Wikia is a free-to-use site that makes money from advertising. We have a modified experience for viewers using ad blockers

Wikia is not accessible if you've made further modifications. Remove the custom ad blocker rule(s) and the page will load as expected.