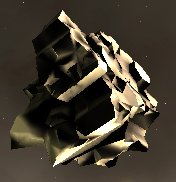 Spodumain is amongst the most valuable ore types around, as it is one of only three ore types that yields the ultra-rare Megacyte. Otherwise very plain, with a bit of Tritanium and Pyerite. 250 ore units are needed to refine.
There are two variants:
Bright Spodumain
Edit
Spodumain is occasionaly found with crystalline traces in its outer surface. Known as Bright Spodumain, the crystal adds considerable value to an already valuable mineral.
Gleaming Spodumain
Edit
Once in a while Spoudumain is found with crystalline veins running through it. The increased value this yields puts the gleam in the eye of any miner lucky enough to find it.

Using Spodumain mining crystals requires the following skills:

Spodumain Processing III

Refinery Efficiency IV

Refining V

Industry I

Metallurgy III

Science IV

Mining I

Using Tech II Spodumain mining crystals requires the following additional skills:

Spodumain Processing IV

The below amounts are on a per-unit basis.
Ad blocker interference detected!
Wikia is a free-to-use site that makes money from advertising. We have a modified experience for viewers using ad blockers

Wikia is not accessible if you've made further modifications. Remove the custom ad blocker rule(s) and the page will load as expected.