Other Images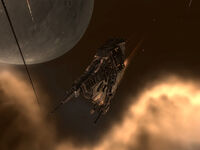 Rupture Cruiser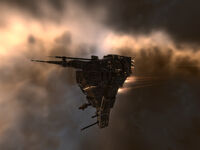 Rupture Cruiser
The Rupture is slow for a Minmatar ship, but it more than makes up for it in power. The Rupture has superior firepower and is used by the Minmatar Republic both to defend space stations and other stationary objects and as part of massive attack formations.
Special Abilities
Edit
5% bonus to Medium Projectile Turret firing speed per level and 5% bonus to Medium Projectile Turret damage per level

Shields
Shield Capacity
1,563 HP
EM Resist
0 %
Explosive Resist
50 %
Kinetic Resist
40 %
Thermal Resist
20 %
Recharge Rate
1250000 ms
Armor
Armor Capacity
1,641 HP
EM Resist
60 %
Explosive Resist
10 %
Kinetic Resist
25 %
Thermal Resist
35 %
Structure
Hull Capacity
1,563 HP
EM Resist
0 %
Explosive Resist
0 %
Kinetic Resist
0 %
Thermal Resist
0 %
Cargo Capacity
300 m3
Mass
11,650,000.00 kg
Volume
96,000.00 m3
Capacitor
Capacitor Capacity
1,250 Energy
Capacitor Recharge
446250 ms
Drones
Drone Bay Capacity
30 m3
Drone Bandwidth
30 Mbit/sec
Navigation
Max Velocity
192 m/sec
Targeting
LADAR Sensor Strength
12 points
Max Locked Targets
5
Max Targeting Range
45 km
Scan Resolution
282 mm
Signature Radius
130 m
Ad blocker interference detected!
Wikia is a free-to-use site that makes money from advertising. We have a modified experience for viewers using ad blockers

Wikia is not accessible if you've made further modifications. Remove the custom ad blocker rule(s) and the page will load as expected.