Other Images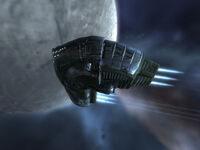 Ishtar Heavy Assault Ship
Ishtar Heavy Assault Ship
While not endowed with as much pure firepower as other ships of its category, the Ishtar is more than able to hold its own by virtue of its tremendous capacity for drones and its unique hard-coded drone-control subroutines.

Touted as "the Ishkur's big brother," the Ishtar design is the furthest CreoDron have ever gone towards creating a completely dedicated drone carrier. At various stages in its development process plans were made to strengthen the vessel in other areas, but ultimately the CreoDron engineers' fascination with pushing the drone carrier envelope overrode all other concerns.

Special Abilities
Edit
Gallente Cruiser Skill Bonus: 5% bonus to Medium Hybrid Turret damage and 10% bonus to drone hitpoints and damage per skill level

Heavy Assault Ship Skill Bonus: +5 km bonus to Scout and Heavy Drone operation range and +50 m3 extra Drone Bay space per level

Shields
Shield Capacity
1,406 HP
EM Resist
0 %
Explosive Resist
60 %
Kinetic Resist
85 %
Thermal Resist
60 %
Recharge Rate
1250000 ms
Armor
Armor Capacity
1,618 HP
EM Resist
60 %
Explosive Resist
10 %
Kinetic Resist
83.75 %
Thermal Resist
67.5 %
Structure
Hull Capacity
2,109 HP
EM Resist
0 %
Explosive Resist
0 %
Kinetic Resist
0 %
Thermal Resist
0 %
Cargo Capacity
460 m3
Mass
11,250,000.00 kg
Volume
115,000.00 m3
Capacitor
Capacitor Capacity
1,125 Energy
Capacitor Recharge
335000 ms
Drones
Drone Bay Capacity
125 m3
Drone Bandwidth
125 Mbit/sec
Navigation
Max Velocity
190 m/sec
Targeting
Magnetometric Sensor Strength
16 points
Max Locked Targets
7
Max Targeting Range
60 km
Scan Resolution
145 mm
Signature Radius
245 m
Ad blocker interference detected!
Wikia is a free-to-use site that makes money from advertising. We have a modified experience for viewers using ad blockers

Wikia is not accessible if you've made further modifications. Remove the custom ad blocker rule(s) and the page will load as expected.