Ad blocker interference detected!
Wikia is a free-to-use site that makes money from advertising. We have a modified experience for viewers using ad blockers

Wikia is not accessible if you've made further modifications. Remove the custom ad blocker rule(s) and the page will load as expected.
Other Images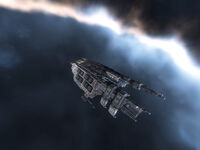 Drake Battlecruiser
Drake Battlecruiser
Of the meticulous craftsmanship the Caldari are renowned for, the Drake was born. It was found beneath such a ship to rely on anything other than the time-honored combat tradition of missile fire, while the inclusion of sufficient CPU capabilities for decent Electronic Warfare goes without saying.

Special Abilities
Edit
Battlecruiser Skill Bonus: 5% shield resistance and 5% bonus kinetic damage of heavy missiles and heavy assault missiles
99% reduction in the CPU need of Warfare Link modules
Shields
Shield Capacity
5,469 HP
EM Resist
0 %
Explosive Resist
50 %
Kinetic Resist
40 %
Thermal Resist
20 %
Recharge Rate
1400 ms
Armor
Armor Capacity
3,906 HP
EM Resist
50 %
Explosive Resist
10 %
Kinetic Resist
25 %
Thermal Resist
45 %
Structure
Hull Capacity
3,906 HP
EM Resist
0 %
Explosive Resist
0 %
Kinetic Resist
0 %
Thermal Resist
0 %
Cargo Capacity
345 m3
Mass
14,000,000.00 kg
Volume
252,000.00 m3
Capacitor
Capacitor Capacity
2,812.5 Energy
Capacitor Recharge
750000 ms
Drones
Drone Bay Capacity
25 m3
Drone Bandwidth
25 Mbit/sec
Navigation
Max Velocity
140 m/sec
Targeting
Gravimetric Sensor Strength
19 points
Max Locked Targets
8
Max Targeting Range
60 km
Scan Resolution
195 mm
Signature Radius
285 m