Other Images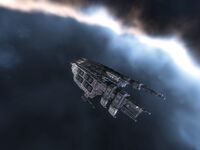 Drake Battlecruiser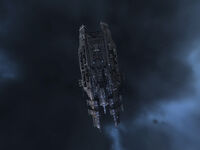 Drake Battlecruiser
Of the meticulous craftsmanship the Caldari are renowned for, the Drake was born. It was found beneath such a ship to rely on anything other than the time-honored combat tradition of missile fire, while the inclusion of sufficient CPU capabilities for decent Electronic Warfare goes without saying.

Special Abilities
Edit
Battlecruiser Skill Bonus: 5% shield resistance and 5% bonus kinetic damage of heavy missiles and heavy assault missiles
99% reduction in the CPU need of Warfare Link modules
Shields
Shield Capacity
5,469 HP
EM Resist
0 %
Explosive Resist
50 %
Kinetic Resist
40 %
Thermal Resist
20 %
Recharge Rate
1400 ms
Armor
Armor Capacity
3,906 HP
EM Resist
50 %
Explosive Resist
10 %
Kinetic Resist
25 %
Thermal Resist
45 %
Structure
Hull Capacity
3,906 HP
EM Resist
0 %
Explosive Resist
0 %
Kinetic Resist
0 %
Thermal Resist
0 %
Cargo Capacity
345 m3
Mass
14,000,000.00 kg
Volume
252,000.00 m3
Capacitor
Capacitor Capacity
2,812.5 Energy
Capacitor Recharge
750000 ms
Drones
Drone Bay Capacity
25 m3
Drone Bandwidth
25 Mbit/sec
Navigation
Max Velocity
140 m/sec
Targeting
Gravimetric Sensor Strength
19 points
Max Locked Targets
8
Max Targeting Range
60 km
Scan Resolution
195 mm
Signature Radius
285 m
Ad blocker interference detected!
Wikia is a free-to-use site that makes money from advertising. We have a modified experience for viewers using ad blockers

Wikia is not accessible if you've made further modifications. Remove the custom ad blocker rule(s) and the page will load as expected.