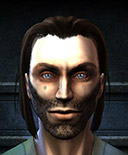 Founded by Old Man Darieux after his return from his fantastic journey to the Ouperia system, CreoDron has been the leading corporation in drone manufacture and development for many years.






Corp Information
Edit
Ticker: CD
Size: Large
Extent: Global
Headquarters: Carirgnottin VIII - CreoDron Factory
Offices: 60 in 42 systems
Shares: 10729648671
Share price: 58
Share Holders: Chemal Tech 35% / CBD Corporation 35% / Aliastra 20% / Garoun Investment Bank 10%
Activity: Manufacture
Partner: Duvolle Laboratories
Competitor: University of Caille
Ad blocker interference detected!
Wikia is a free-to-use site that makes money from advertising. We have a modified experience for viewers using ad blockers

Wikia is not accessible if you've made further modifications. Remove the custom ad blocker rule(s) and the page will load as expected.