Other Images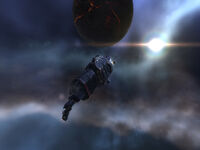 Crane Transport Ship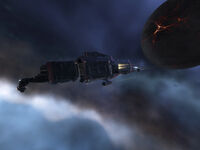 Crane Transport Ship
Blockade runner transports are the fastest type of industrial available. Utilizing sturdy but lightweight construction materials and sacrificing some cargo space, these haulers are able to reach speeds greater than those of a cruiser while withstanding heavy fire - factors which make them ideal for zipping through dangerous territories with valuable cargo.
Special Abilities
Edit
Caldari Industrial Skill Bonus:
+5% cargo capacity per level
+5% velocity per level


Transport Ships Skill Bonus:
+5% shield booster boost amount
-10% bonus to cpu need of covert ops cloaks


Role Bonus:
can fit covert ops cloaks
Shields
Shield Capacity
1,758 HP
EM Resist
0 %
Explosive Resist
60 %
Kinetic Resist
55 %
Thermal Resist
60 %
Recharge Rate
1250000 ms
Armor
Armor Capacity
1,196 HP
EM Resist
60 %
Explosive Resist
10 %
Kinetic Resist
43.75 %
Thermal Resist
72.5 %
Structure
Hull Capacity
1,969 HP
EM Resist
0 %
Explosive Resist
0 %
Kinetic Resist
0 %
Thermal Resist
0 %
Cargo Capacity
3,500 m3
Mass
11,500,000.00 kg
Volume
195,000.00 m3
Capacitor
Capacitor Capacity
843.75 Energy
Capacitor Recharge
253130 ms
Drones
Drone Bay Capacity
0 m3
Drone Bandwidth
0 Mbit/sec
Navigation
Max Velocity
165 m/sec
Targeting
Gravimetric Sensor Strength
17 points
Max Locked Targets
2
Max Targeting Range
45 km
Scan Resolution
225 mm
Signature Radius
125 m
Ad blocker interference detected!
Wikia is a free-to-use site that makes money from advertising. We have a modified experience for viewers using ad blockers

Wikia is not accessible if you've made further modifications. Remove the custom ad blocker rule(s) and the page will load as expected.